This store requires javascript to be enabled for some features to work correctly.


YoLink, a division of YoSmart, a US corporation based in Irvine, California, is a line of smart product for residential and commercial use, utilizing wireless technology initially utilized for industrial, municipal, and other large-scale applications.
This technology, LoRa, short for Long-Range, is unique in the smart home industry, and provides you with benefits that include 2 to 10 year battery life, up to 1/4 open-air wireless range, superior wall and obstruction penetration, including concrete, masonry, even metal!
YoLink benefits include a more secure automation network, due to a centralized and encrypted internet connection, as the device are not on the internet and they do not rely on WiFi. All communication is encrypted, and and controlled by AWS servers, for finance-trade security, backups and redundancies.
Our patented Control-D2D (device-to-device) pairing allows for offline operation, including functionality even after the loss of WiFi, internet, and AC power, making it perfect for your critical operations such as water leak detection and automatic shut-off, and security/intrusion detection applications.
It's not just about how great our products are, it's about you, too!

Most companies proudly put their products front & center. We'd rather put the focus on our customers, as evidenced by our You Are Smart tenet:
You want to make your home or business smart.
You want to use IoT devices, apps and automation, to add safety, security, and convenience to your life and
even savings on your power bill.
At YoLink, by YoSmart, it is our ambition to provide
the best and most user-friendly smart products, at the best prices,
with the best customer support.
Designed to be easy to set up and easy to use,
with features like reliable, industry-leading extreme
long range wireless networks, extended battery life, and
a two-year warranty,
YoLink is the smart choice!


LoRa (short for long range) is a spread spectrum modulation technique derived from chirp spread spectrum (CSS) technology. Semtech's LoRa devices and wireless radio frequency technology is a long range, low power wireless platform that has become the de facto technology for Internet of Things (IoT) networks worldwide. LoRa devices and the open LoRaWAN® protocol enable smart IoT applications that solve some of the biggest challenges facing our planet: energy management, natural resource reduction, pollution control, infrastructure efficiency, disaster prevention, and more. Semtech's LoRa devices and the LoRaWAN protocol have amassed several hundred known uses cases for smart cities, smart homes and buildings, smart agriculture, smart metering, smart supply chain and logistics, and more. With well over 100 million devices connected to networks in 100 countries and growing, LoRa devices are the DNA of IoT, creating a Smarter Planet.
LoRa Wireless RF Technology

A Semtech innovation, LoRa devices offer compelling features for IoT applications including long range, low power consumption and secure data transmission. The technology can be utilized by public, private or hybrid networks and provides greater range than Cellular networks. LoRa Technology can easily plug into existing infrastructure and enables low-cost battery-operated IoT applications. Semtech builds LoRa Technology into its chipsets which are incorporated into devices manufactured by a large ecosystem of IoT solution providers, and connected to LoRaWAN-based networks around the globe. Simply stated, LoRa connects devices (or all things) to the Cloud.


Thanks to LoRa and our other innovations, YoLink is redefining "Smart Home"
"Smart home?" Think bigger! Take your wireless devices where you never thought possible before: to the backyard, to separate garages, to sheds, barns, mailboxes and beyond. Our products are used in high-rise buildings, thanks in part to 900MHz band Chirp Spread Spectrum technology that allows transmission through multiple storeys of reinforced concrete.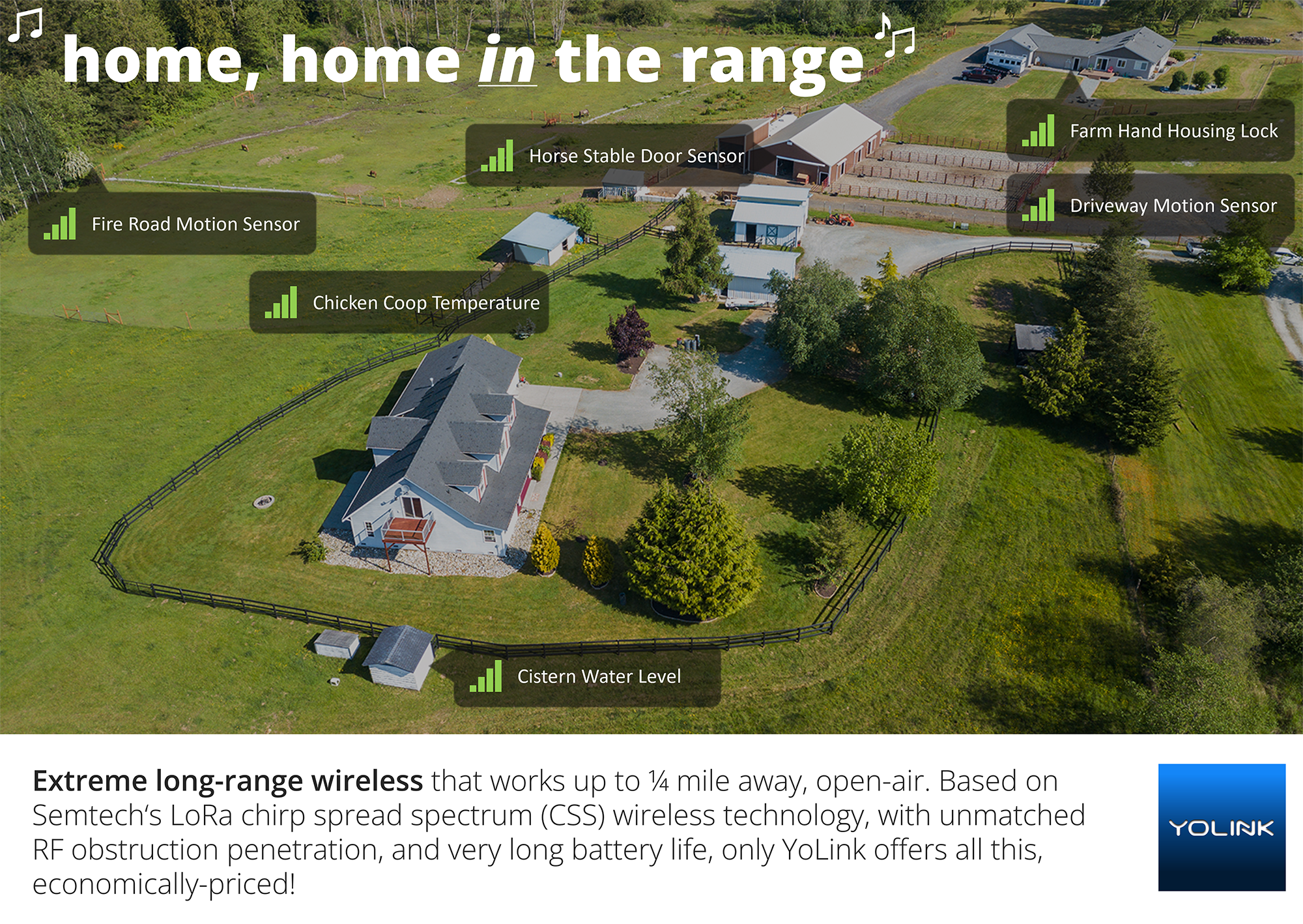 No WiFi, No Internet, No Power
No WiFi, No Internet, No Power
No WiFi, No Internet, No Power
No WiFi, No Internet, No Power
No WiFi, No Internet, No Power
Functionality, with the loss of WiFi, Internet, even without AC power!
Thanks to Control-D2D device-to-device pairing
Perfect for security & automatic water leak/water shut-off applications
No WiFi, No Internet, No Power
Functionality, with the loss of WiFi, Internet,
even without AC power!
Thanks to Control-D2D device-to-device pairing technology!
Perfect for security/intrusion, water leak detection & automatic water shut-off, and other critical applications.
Control-D2D is a wireless device-to-device protocol that adds the ability to pair one wireless device to one or more (up to 128!) other wireless devices, to establish a link or relationship between the devices, that will remain and will carry out the desired action when required, even if WiFi, internet and AC power are no longer present. These feature is not commonly found in smart wireless devices and is for the most part unique to YoLink in the smart home industry. The process is incredibly easy and takes no more than a minute to set up.
Control-D2D pairing is perfect for critical applications, such as security/intrusion detection and for water leak detection and automatic water shut-off (and it is a big part of our Water Leak Protection System, a complete water leak detection and automatic shut-off solution protecting customers against the loss and expense that often comes with water leaks (learn more here).
What can I do with Control-D2D?
You can pair a smart siren to activate upon any alarm (motion sensor, vibration sensor, water leak sensor, etc.).

You can pair your leak sensors to a smart motorized valve or wireless valve controller.




You can pair a smart plug or light switch to a motion sensor or door sensor.




You can pair a smart fob to a garage door operator.